Welcome to DeepWild.org
Birch Creek Arts and Ecology Center
Escape to the beauty of wild nature!
Our rustic mountain retreat and education center
provides a special place for lovers of Nature.
Birch Creek Arts & Ecology Center invites you to join us
for a time of delight and transformation at historic Trillium Farm,
nestled in the spectacular Little Applegate River canyon,
deep in the Siskiyou Mountains of southwestern Oregon.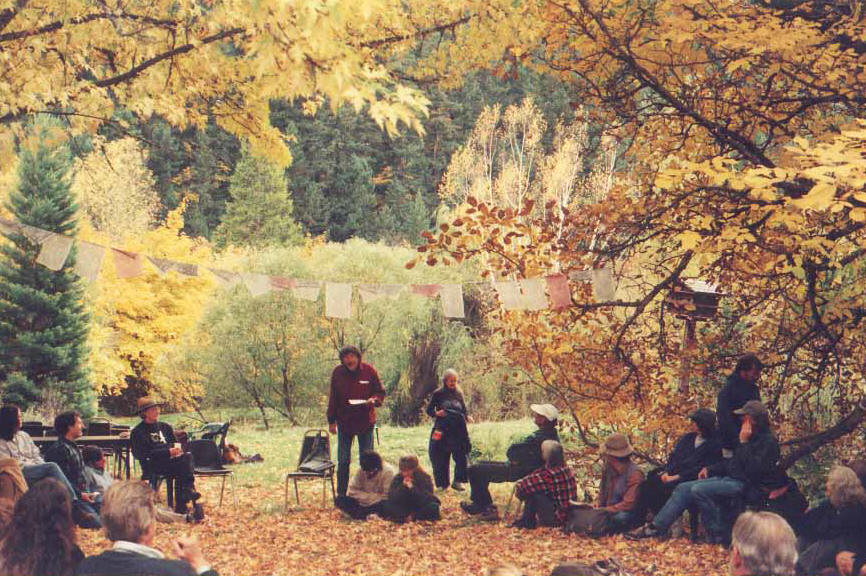 Humboldt County Poet Jerry Martien reads at the Orion Society Forgotten Language Tour, 1998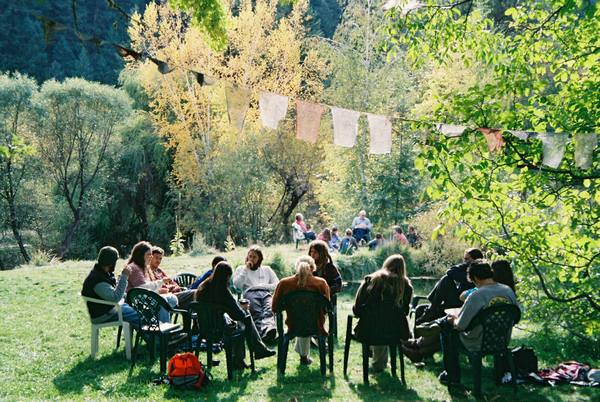 Forest activists gather for discussion groups during retreat in 1992.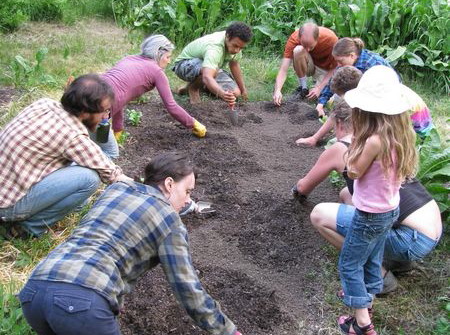 Sustainable Living Interns preparing garden bed, 2013.


Birch Creek Arts and Ecology Center operates a wilderness campus
located at historic Trillium Farm, a former trout hatchery and homestead nestled deep
in a remote river canyon in the wild eastern Siskiyou Mountains of S.W. Oregon.

At Birch Creek, we practice basic tenets of Ecopsychology:
Immersion in powerful wild landscapes
to connect with Nature and heal our bodies, minds, and spirits,
helping us to become more aware of our gifts and how to share them
while we evolve as planetary citizens of this beautiful blue being of life, our Earth Mother Gaia.
Birch Creek Arts and Ecology Center hosts and presents various programs and events
with a focus on the Fine and Healing Arts, Ecology and Natural History,
Homesteading and Organic Gardening, Spirituality and Connectedness,
Natural Resource Conservation and Environmental Activism,
and celebrating the opportunity to be human on this beautiful planet Earth.
Our 2015 schedule is already filling up with our Sustainable Living Intern Programs.
We welcome back Summer Camp's 2-week intentional community village.
Contact Birch Creek Arts and Ecology Center to receive information about
booking your workshop, class, green wedding, personal retreat, or other event.
Birch Creek Arts and Ecology Center also hosts our local watershed conservation organization:
THREATENED and ENDANGERED: Little Applegate Valley (TELAV),
which has protected the Little Applegate from strip mining, aerial herbicides, a dam on the river,
and from clear-cutting and illegal logging operations since 1979.
To provide academic accreditation through universities and colleges, Birch Creek Arts and Ecology Center
works in partnership with Dakubetede Environmental Education Programs (DEEP)
to develop educational workshops, classes, events, and programs.
Quick Links to Birch Creek's most visited pages:
> Upcoming Events hosted by Birch Creek Arts and Ecology Center
> Trillium Farm Volunteer Sustainable Living Internships
> D.E.E.P. Ecostery Earth Steward & Conservation Activism University Program
> Know Your Land Rural Land Consulting
> Check out the new Trillium Farm Photo Album